What do we want the Isle of Wight to look like in 2030?
The Isle of Wight Chamber of Commerce vision document is designed to increase the economic and social wellbeing of the Island. It firmly positions the Isle of Wight as a great place to live, work and do business. The document channels a clear, positive message about the Island, aimed at promoting a shared vision of the future for residents. This cohesive vision will spotlight the Island as a unique place to do business within a vibrant lifestyle, a message that will encourage visitors and investors to choose the Isle of Wight in preference to other parts of the UK.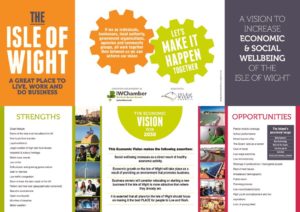 (Please click on the above image to open the full vision in a new browser window)

Key messages from the vision:

Social wellbeing increases as a direct result of healthy economic activity
Economic growth on the Island will take place as a result of providing an environment that encourages and attracts business growth
Increased business investment will come from existing or new business either relocating to or starting a new business on the Isle of Wight
All plans for the Isle of Wight should focus on making it the best PLACE for people to live and work
The Economic Vision for 2030 has been informed by the views of Chamber members through their business representatives. The manifesto for the future of the economy addresses the challenges presented by the Island's "perceived image". For a non-Islander who might think the Isle of Wight is "only tourism… no technology… behind the times… hard to get to or isolated" it presents the Island as a business destination with unique, often beautiful geography. It sets out the Island as a safe home to raise a family and with proximity to London. By channelling a consistent, positive message to boost the economy and attract more high value high paying jobs, the vision will help to re-engage all parts of the Island's community and to regenerate our public realm.