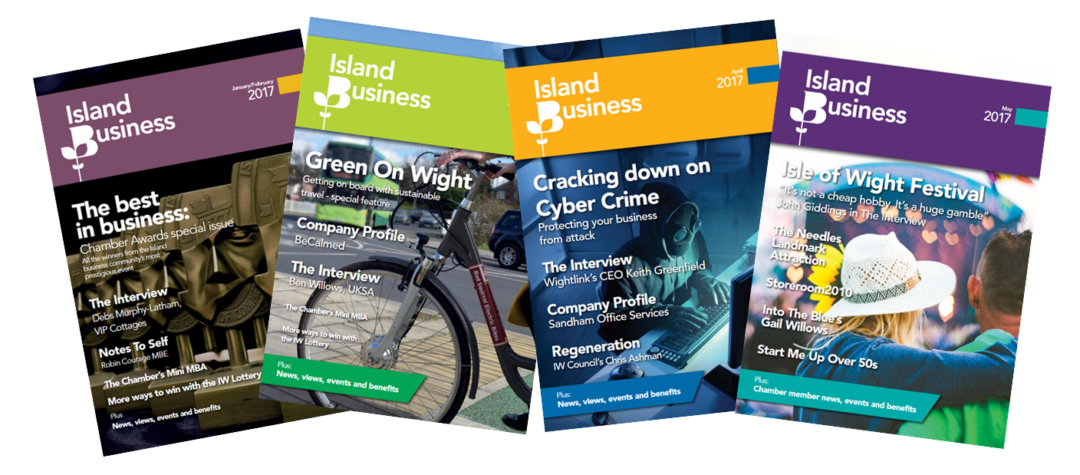 Catch up on the latest issues of Island Business Magazine here
Island Business May 2018
The Seaview Hotel in the Company Profile, we find out more about WightFibre's Gigabit Island and talk to Rouse Limited's Ben Rouse in the Interview.
Island Business April 2018
We visit Island RIBs and A.J. Wells as well as focusing on GDPR with ESID's Gary Peace and Real Employment Law Advice.
Island Business March 2018
The Island's 2030 Vision; HTP Apprenticeship College; Shaun Smith; GDPR; BCM.
Island Business January/February 2018
Start 2018 with the best in Island business and all of our winners at the recent Business Awards for Excellence. The Interview is with Bob Seely MP and we spotlight Christopher Scott, along with the IW Lottery and the BCC's Economic Forecast for 2018.
Island Business November/December 2017
Fifty years of Vikoma International, Red Funnel's plans for 2018 and the IW Chamber Business Awards nominations in full.

Island Business October 2017
We go inside the new Ascensos contact centre in Cowes, as well as full coverage of the Chamber's Expo 2017.

Island Business September 2017
Includes the Garlic Farm, Isle of Wight College's new CECAMM building, The Studio School, WightFibre, plus a preview of EXPO 2017 and this year's Chamber Awards.

Island Business July August 2017
We talk to the Island's Council Leader Dave Stewart; we hear from the business community about their reaction to the EU Referendum result one year on; our Company Profile visits Richardson's Yacht Services.

Island Business June 2017
We go inside MHI Vestas, meet the owners of newly opened Haven Hall and talk to Debbie Bates from Pertemps.

Island Business May 2017
Tom Stroud interviews Isle of Wight Festival's John Giddings; our Company Profile features The Needles Landmark Attraction, plus Storeroom2010, StartMeUp Over 50s, Visit Isle of Wight and Into The Blue's Gail Willows

Island Business April 2017
Cyber Crime special edition, also including Wightlink's CEO Keith Greenfield and Sandham Office Services in the Company Profile.

Island Business March 2017
Green On Wight sustainable travel special issue, also featuring BeCalmed in Cowes and UKSA

Island Business January / February 2017
Start 2017 with the best in Island business as we feature all of our winners from the recent Business Awards for Excellence.