CORONAVIRUS (COVID-19)
Get the latest advice for your business
IW Chamber is the voice of Island business. The Chamber represents hundreds of Island businesses and is working with partners including the Isle of Wight Council, the Island's MP, the NHS, Visit Isle of Wight and public transport operators.
IW Chamber is part of the The British Chambers of Commerce, which is working with Government to mitigate the impact of Coronavirus on business communities.
Changes to self-isolation rules from Monday 16 August
People who are fully vaccinated or aged under 18 and identified as a close contact of a positive COVID-19 case, do not now need to self-isolate.
If they are age 18 and over, they will be advised to book a free PCR test as soon as possible. They will not need to self-isolate while waiting for the results.
The following groups will still need to self-isolate if they are a close contact of a positive COVID-19 PCR test result:
Those who have not received their COVID-19 vaccination
Those who have not been fully vaccinated
Those who have received their second dose within the last 14 days
Those who have tested positive following a PCR test
Those who have been fully vaccinated and are displaying COVID-19 symptoms (ahead of getting a PCR test).
A contact is a person who has been close to someone who has tested positive for COVID-19. You can be a contact any time from 2 days before the person who tested positive developed their symptoms (or, if they did not have any symptoms, from 2 days before the date their positive test was taken), and up to 10 days after, as this is when they can pass the infection on to others.
A contact can be:
anyone who lives in the same household as another person who has COVID-19 symptoms or has tested positive for COVID-19
anyone who has had any of the following types of contact with someone who has tested positive for COVID-19:
O             face-to-face contact including being coughed on or having a face-to-face conversation within one metre
O             been within one metre for one minute or longer without face-to-face contact
O             been within 2 metres of someone for more than 15 minutes (either as a one-off contact, or added up together over one day)
A person may also be a close contact if they have travelled in the same vehicle or plane as a person who has tested positive for COVID-19.
An interaction through a Perspex (or equivalent) screen with someone who has tested positive for COVID-19 is not usually considered to be a contact, as long as there has been no other contact such as those in the list above.
If you are a contact of someone who has tested positive for COVID-19 you will be notified by the NHS Test and Trace service via text message, email or phone.
There are more details about the changes on the government website. This information about what to do if there's COVID-19 in your household is very useful.
Further easing of COVID restrictions confirmed for 17 May
From Monday 17 May, indoor hospitality, saunas and steam rooms, indoor sport and exercise classes, and cinemas, theatres and other indoor entertainment can all reopen, as well as all remaining outdoor entertainment. Larger events including business conferences and sports events can also resume, subject to the restrictions on numbers of attendees previously set out. The latest guidance is available now.
International travel to green list countries can begin to safely resume, and up to 6 people or 2 households will be able to meet indoors and up to 30 people outdoors.
Working safely during Coronavirus - guidance from Step 4
The UK government has published the newly 
updated working safely guidance
 to support businesses in England through Step 4 of the roadmap. From Step 4, legal restrictions are lifted, all businesses can open and the government is no longer instructing people to work from home.
Businesses still have a legal duty to manage health and safety risks. You must carry out a health and safety risk assessment, including the risk of Coronavirus, and take reasonable steps to mitigate the risks you identify.
As before, the updated guides cover a range of different types of work and 
are available here
.
Step-by-step plan announced to ease restrictions in England
The Prime Minister, Rt Hon Boris Johnson MP, announced to Parliament on Monday 22 February, the government's roadmap to cautiously ease lockdown restrictions in England.
It published a four-step roadmap to ease restrictions across England and provide a route back to a more normal way of life. Before taking each step, the Government will review the latest data on the impact of the previous step, against four tests on vaccines, infection rates and new coronavirus variants to be met at each stage:
Step 1— no earlier than 8 March* – return to face-to-face education in schools and colleges; the Stay-at-Home requirement will remain, but people can leave home for recreation outdoors such as a coffee or picnic with their household or support bubble, or with one person outside their household. Further limited changes from 29 March, the Stay-at-Home order will end, although many lockdown restrictions will remain, Rule of six or two households outdoors allowed; outdoor sport and leisure facilities open, organised outdoor sport allowed.
Step 2 – no earlier than 12 April* – Non-essential retail and personal care open; hospitality outdoors open; indoor leisure (gyms and swimming pools) open and self-contained holiday accommodation open. Event pilots begin. 
Step 3 – no earlier than 17 May* – Gatherings of over 30 people remain illegal; outdoor performances such as outdoor cinemas, and outdoor theatres can reopen. Indoors, the rule of 6 or 2 households will apply; indoor hospitality, entertainment venues such as cinemas and soft play areas, the rest of the accommodation sector, and indoor adult group sports and exercise classes will also reopen. International travel will be subject to review.
Step 4 – no earlier than 21 June* – No legal limits on social contact, reopening the remaining closed settings like Nightclubs, and larger events, no legal limit on all live events (all subject to review).
The decision on each stage will be based on data not dates, and government will move cautiously to keep infection rates under control.
The roadmap can be found in full here.
* Earliest possible date
Grant schemes for businesses - January 2021
The application forms and details of the grant help can be accessed via: www.iow.gov.uk/covid19_businessadvice
The grant schemes for which businesses can apply are as follows:
Rolling grant payments (from 5 January 2021) – These are 28 day rolling payments ranging from £1,334 to £3,000 depending on rateable value for eligible ratepaying businesses in certain categories (non-essential retail, hospitality venues, accommodation, leisure and sports facilities, entertainment venues, animal attractions, indoor attractions at venues, personal care facilities, community centres and halls).
One-off top-up grants (from 5 January 2021) – These range from £4,000 to £9,000 depending on rateable value, and are for eligible ratepaying businesses in certain categories (retail, hospitality and leisure sectors), which are legally required to close under the current lockdown, and which cannot operate effectively remotely.
Local Restrictions Support Grant (LRSG) – This scheme relates to grants that are available to eligible ratepaying businesses for the period during the earlier local Tier 3 and Tier 4 restrictions on the Island around Christmas and the new year.
Winter Business Support Grant (WBSG) – The council has created this scheme as an extension of the previous Additional Restrictions Grant (ARG) scheme, which operated for the previous November lockdown. This discretionary scheme will support businesses severely impacted by the lockdown, including those in the supply chain and not eligible for national lockdown or LRSG support.
Christmas support payments for 'wet' led pubs – If your pub was in Tier 3 between 2 December 2020 and 29 December 2020 you may be eligible for a one off payment of £1,000. Island pubs were in Tier 3 from 26 December.
Budget March 2021: Summary of Key Policy Announcements
Kickstart Scheme
The IW Chamber of Commerce is acting as a representative for the KickStart Scheme. If you would like more information please email chamber@iwchamber.co.uk
The government has introduced a new Kickstart Scheme in Great Britain, a £2 billion fund to create hundreds of thousands of high quality 6-month work placements aimed at those aged 16 to 24 who are on Universal Credit and are deemed to be at risk of long term unemployment.
Funding available for each job will cover 100% of the relevant National Minimum Wage for 25 hours a week, plus the associated employer National Insurance contributions and employer minimum automatic enrolment contributions.
Rolling Grant Payments
These are 28 day rolling payments ranging from £1,334 to £3,000 depending on rateable value for eligible ratepaying businesses in certain categories (non-essential retail, hospitality venues, accommodation, leisure and sports facilities, entertainment venues, animal attractions, indoor attractions at venues, personal care facilities, community centres and halls).
The IW Council has now received guidance from government that the next rolling grant payment to eligible businesses will cover the period up to 1 April 2021.
This will not require businesses to complete a further application form if they have already applied for this funding in January, but internal checks will be made.
The IW Council is due to receive the funding from government next week (week starting 1 March) and payments will start to be made from Friday 5 March.
Step 4 of the Roadmap paused for four weeks
Following the Prime Minister's announcement that step 4 will be delayed, free asymptomatic work place testing has been extended for a month until the end of July. The new final date to order workplace tests is 19 July.
The 30-person limit is also being lifted for weddings and wakes from 21 June. Venues must adhere to COVID secure guidance, maintain social distancing and provide table service. Further information can be found in the guidance.
Job Retention Scheme Extended FAQs
Coronavirus Job Retention Scheme (CJRS) has been extended until 31st March 2021. The original CJRS was due to end on 31st October, with the introduction of the Job Support Scheme from 1st November. Since the announcement of the extension, the government have released guidance for CJRS.
Please find the updated FAQ document provided for Chamber members from Quest here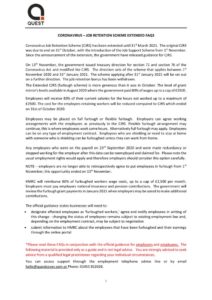 Trade
'Bounce back' plan for agriculture, food and drink industry launched
A 'bounce back' plan of trade measures for the agriculture, food and drink industry was announced on 22 June to help support businesses that have been impacted by Coronavirus.
Trade Credit Insurance backed by £10 billion guarantee
On 4 June, the UK government announced guarantees of up to £10 billion to Trade Credit Insurance schemes for business-to-business transactions.
The measures will support thousands of businesses by protecting against customer defaults or payment delays
The scheme is available on a temporary basis for nine months, backdated to 1 April 2020, and available insurers operating in the UK market.
Force Majeure Certificates
These are certificates attesting the existence of force majeure circumstances i.e. circumstances beyond the control of the applicant such as fire, flood, industrial disputes, or in present circumstances, a pandemic. Please note that we can only certify factual details that can be evidenced. We cannot comment as to whether or not Force Majeure applies or argue such claims on behalf of the applicant. It is the responsibility of the applicant to claim Force Majeure and the issuing body's role is to provide a certificate in support of such claim.
Delaying import duty payments as a result of Coronavirus
HMRC has released guidance on how to request an extension to the payment period for import duty/import VAT payments. Deferment is not automatic and requires immediate action.
Duty deferment account holders – Duty deferment account holders who are experiencing severe financial difficulty as a result of Coronavirus and who are unable to make payment of deferred customs duties and import VAT due on 15 April 2020 can contact HMRC for approval to enter into an extended period to make full or partial payment, without having their guarantee called upon or their deferment account suspended. The account holder should contact the Duty Deferment Office 03000 594243 or by email cdoenquiries@hmrc.gov.uk or the Coronavirus helpline on 0800 024 1222. Account holders will be asked to provide an explanation of how Coronavirus has impacted their business finances and cash flow.
Duty Deferment account holders will be able to use their accounts during the extended payment period agreed unless they default on a subsequent payment in that period, in which case HMRC may consider suspending their account. The outstanding payment will not affect their duty deferment limit so they will not need to increase their guarantee to cover the outstanding payment. Where HMRC agree to an extended payment period, interest will not be charged on the outstanding payments provided they are paid in full by the agreed date.
Duty/import VAT payments not covered by a duty deferment account – Registered Importers who pay cash or an equivalent and are facing severe financial difficulties as a direct result of Coronavirus can contact HMRC to request an extension to the payment deadline at the time the payment is due. They will be asked to provide an explanation of how Coronavirus has impacted on their business finances. HMRC will consider this request and decide whether or not to agree an additional time to pay. The decision will be taken on a case-by-case basis and could be refused.
If the request is approved the conditions, including the length of time offered, will depend upon the importer's individual circumstances and may require the holding of a guarantee for the period of the time extension. We cannot offer this facility to non-registered importers. For further information, please contact the Customs Debt Policy inbox.
Tourism business advice from Visit Isle of Wight
"The Island will wait"
For the latest tourism sector guidance and messaging please see the official Visit Isle of Wight industry website hub:
https://visitwightpro.com/2020/03/06/novel-coronavirus-covid-19-advice-hub/
"England is now in a national lockdown and you must stay at home. To our valued visitors, we hope that you're happy, healthy and staying upbeat at this time. As an Island we ask that you adhere to all Government guidelines to help protect you and those around you.
We ask that you postpone your trip to the Isle of Wight until the time is right to visit. Together we can help in the fight against Coronavirus by staying home with our loved ones and avoiding all non-essential travel."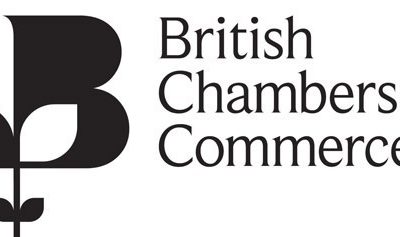 Claire Walker, Co-Executive Director of the British Chambers of Commerce, said: "Businesses will be disappointed by this setback to the reopening in England. This delay to the removal of restrictions will come as a hammer blow to those firms...