Coronavirus (COVID-19) –
Protect yourself and others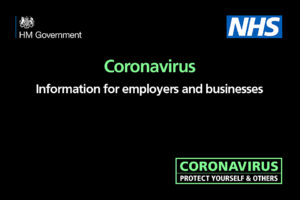 The British Chambers of Commerce is working with Government to mitigate the impact of Coronavirus on business communities.
IW Chamber is monitoring the situation very closely and following the advice of our partners in the British Chambers of Commerce, the Isle of Wight Council and the NHS. We will provide updates regarding our events if and when the situation changes.
"The situation is changing day-to-day and many Island businesses are bracing themselves for difficult situations and difficult choices. Like every other business, the IW Chamber is responding in real-time to an evolving situation. The IW Chamber is the voice of Island businesses and we will continue to represent the voice of our members in this crisis.

"Businesses are currently in desperate need of clarity around access to the new government support packages. I am in daily contact with the Island's MP Bob Seely and in regular contact with IW Council Chief Executive John Metcalfe. Every concern presented to me personally has been passed on to the MP for his response and so he can understand and best press the concerns of Island businesses to government."


Steven Holbrook, IW Chamber CEO
UK Government Guidance for Employers and Businesses
For the latest guidance from Public Health England and Department for Business, Energy & Industrial Strategy, click here 
To view the government's COVID-19 Action Plan you can click here 
 Government Support for Businesses
The Government is supporting businesses and their employees through a package of measures during this period of unprecedented disruption. The Business Support website helps you find the right support, advice and information to help with the impact of coronavirus (COVID-19) on your business. This website will continue to be updated as information becomes available. 
 A full range of business support measures have been made available to UK businesses and employees. 
This guidance provides details of support available to businesses including:
a Coronavirus Job Retention Scheme
deferring VAT and Income Tax payments
Self-employment Income Support Scheme
statutory sick pay relief package for small and medium-sized enterprises (SMEs)
a 12-month business rates holiday for all retail, hospitality, leisure and nursery businesses in England
small business grant funding of £10,000 for all business in receipt of small business rate relief or rural rate relief
grant funding of £25,000 for retail, hospitality and leisure businesses with property with a rateable value between £15,000 and £51,000
the Coronavirus Business Interruption Loan Scheme to support long-term viable businesses who may need to respond to cash-flow pressures by seeking additional finance
a new lending facility from the Bank of England to help support liquidity among larger firms, helping them bridge coronavirus disruption to their cash flows through loans
the HMRC Time To Pay Scheme to help with tax
Coronavirus business support finder
The Cabinet Office has published a tool for UK businesses to ascertain what support is available to them including loans, tax relief and cash grants. Use the business support finder to help determine what support is available to your business.
HM Treasury response
How to access government financial support if you or your business has been affected by COVID-19
On 17 March, the Chancellor announced an unprecedented package of government-backed and guaranteed loans to support businesses, making available an initial £330bn of guarantees – equivalent to 15% of GDP. The government will take new legal powers in the COVID-19 Bill, enabling it to offer whatever further financial support it thinks necessary to support businesses.
This document sets out further information on how you or your business can access if you are experiencing financial difficulties because of COVID-19.
https://www.iwchamber.co.uk/wp-content/uploads/2020/03/Covid-19-fact-sheet-update.pdf
Isle of Wight Council
Island businesses seeking key updates on access to government relief funding are being encouraged to visit a special page on the Isle of Wight Council's website.
The new page at www.iow.gov.uk/covid19_businessadvice is being updated as further information becomes available from the government over the coming days, including details of accessing business rates support.
If you think your business qualifies for these measures of financial support, please fill in the IW Council online form to provide details to assist them with the processing of payments:  Application form for support for businesses affected by Covid-19 (Coronavirus) 
To fill in the form you will need the following:
Account number (as per business rates bill)
Name of ratepayer
Company name & number (as per Companies House)
VAT number
Your bank details
If you wish to challenge non-payment of a grant please use this appeals form – https://www.iow.gov.uk/iwforms/BusGrApp
New government discretionary grant support
Applications are now open for eligible Island businesses to apply for funding under the government's additional discretionary grant scheme. The IW council has been allocated £2.96 million to distribute, specifically to those businesses which missed out under the initial government grant scheme, and which qualify under the new criteria. The council can award grants of £25,000, £10,000 or any sum up to £10,000. You can download guidance and access the application form via the IW Council website – https://www.iow.gov.uk/Council/OtherServices/Public-Health-Coronavirus-COVID-19/Businesses-and-employers
(Please note that under this scheme, businesses are required to submit financial and other evidence to support their application. Only businesses which were trading on 11 March 2020 are eligible.)
Business Rates – Local Authority Guidance
For guidance on Business Rates Relief and Business Rates Retail Discount click here:
https://www.iwchamber.co.uk/wp-content/uploads/2020/03/Expanded-Retail-Discount-202021-Coronavirus-Response-Local-Authority-Guidance.pdf
British Chambers of Commerce
IW Chamber is an accredited member of the British Chambers of Commerce. The Chamber Network is at the forefront of helping businesses across the UK manage the impact of Coronavirus. Visit the BCC's Coronavirus Hub to keep your business up to date with all the latest guidance and support available. Get the latest from the BCC here
Read the BCC's FAQs on UK government support measures here 
Coronavirus Job Retention Scheme
Government grants will cover 80% of the salary of retained workers, up to a total of £2,500 a month. HMRC has announced that employers are able to make a claim under the Coronavirus Job Retention Scheme for furloughed employees who were on their PAYE payroll on or before 19 March 2020 instead of 28 February 2020. HMRC has also announced that the claims portal will be available from 20 April 2020.
If you have questions about the Job Retention Scheme you can read the FAQ put together by the BCC and Quest (version 9A) –  FAQs here
HMRC has published further support for businesses including:
• updated guidance;
• further guidance on how to calculate a claim; and
• a step-by-step guide for employers.
Self-employment Income Support Scheme (SEISS)
The Self-employment Income Support Scheme (SEISS) will support self-employed individuals (including members of partnerships) whose income has been negatively impacted by COVID-19. The scheme will provide a grant to self-employed individuals or partnerships, worth 80% of their profits up to a cap of £2,500 per month.
Find out about the SEISS scheme here – https://www.businesssupport.gov.uk/self-employment-income-support-scheme/
Read the Self-employment Income Support Scheme FAQ page here – https://www.businesssupport.gov.uk/self-employment-income-support-scheme-faqs/
Coronavirus Business Interruption Loan Scheme (CBILS) – This scheme delivered by the British Business Bank, will enable small and medium sized businesses to apply for a loan, up to £5m, with the government providing a guarantee of 80% on each loan and with no interest due for the first twelve months. Personal guarantees of any form cannot be taken under the scheme for any facilities below £250k. CBILS supports a wide range of business finance products, including term loans, overdrafts, invoice finance and asset finance facilities. The scheme will be delivered through commercial lenders, backed by the British Business Bank. CBILS is now open for applications.
Coronavirus Large Business Interruption Loan Scheme (CLBILS) – Government will provide a guarantee of 80% to enable banks to make loans to firms with turnover of between £45 million and £250 million of up to £25 million and loans of up to £50 million for firms with turnover of more than £250 million. Facilities will be available from 3 months up to 3 years and will be offered at commercial rates of interest. The scheme will be delivered through commercial lenders, backed by the British Business Bank. CLBILS is now open for applications.
The government has extended the maximum loan size available through the Coronavirus Large Business Interruption Loan Scheme from £50 million to £200 million.
Loans under the expanded scheme will be made available to large businesses affected by coronavirus from next week.
Changes also mean companies receiving help through CLBILS and the Bank of England's Coronavirus Corporate Financing Fund will be asked to agree to not pay dividends and to exercise restraint on senior pay. – https://www.gov.uk/government/news/larger-businesses-to-benefit-from-loans-of-up-to-200-million
Bounce Back Loans scheme (BBLS)- Aimed at the UK's smallest firms, the Bounce Back Loans scheme will offer loans of between £2,000 and £50,000. Businesses can borrow up to the value of 25% of their turnover up to a maximum of £50,000. The Government will provide lenders with a 100% guarantee for the loan and pay any fees and interest for the first 12 months. No repayments will be due during the first 12 months. There is a short, standardised online application to apply for a loan. There is no forward-looking test of business viability or 'complex' eligibility criteria. Finance should reach businesses 'within 24 hours' of approval. The scheme is now open for applications.
Future fund – a new Future Fund to support the UK's innovative businesses currently affected by Coronavirus. These businesses have been unable to access other government business support programmes, such as CBILS, because they are either pre-revenue or pre-profit and typically rely on equity investment. The scheme will deliver an initial commitment of £250m of new government funding which will be unlocked by private investment on a match funded basis. The scheme is now open for applications and will initially be open until the end of September 2020.
Coronavirus Statutory Sick Pay Rebate Scheme: – The recently announced Coronavirus Statutory Sick Pay Rebate Scheme went live on  26th May. Small businesses and employers across the UK who have paid Statutory Sick Pay to staff taking coronavirus-related leave will be able to claim back the money from today. Businesses with fewer than 250 employees can find out how to make a claim here –https://www.gov.uk/government/news/coronavirus-sick-pay-scheme-opens-for-applications
Employers will receive repayments at the relevant rate of SSP that they have paid to current or former employees for eligible periods of sickness starting on or after 13 March 2020.
Full guidance can be found here: https://www.gov.uk/guidance/claim-back-statutory-sick-pay-paid-to-employees-due-to-coronavirus-covid-19#who-can-use-the-scheme
Guidance for Retail to reopen in June
The Government has recently updated the COVID-19 secure guidance to help certain shops across England reopen safely from June. Outdoor markets and car showrooms will be able to reopen from 1 June and all other non-essential retail will be expected to be able to reopen from 15 June if the Government's five tests are met and they follow the COVID-19 secure guidelines.
Businesses will only be able to open from these dates once they have completed a risk assessment, and are confident they are managing the risks. They must have taken the necessary steps to become COVID-19 secure in line with the current Health and Safety legislation.
You can find full guidance on working safely here: https://gov.uk/guidance/working-safely-during-coronavirus-covid-19/shops-and-branches
Bob Seely MP
Find out the latest from Bob Seely here – https://www.bobseely.org.uk/covid-19-latest-advice
Solent LEP
The Solent LEP are providing a range of on-going support to businesses in the Solent region through their Coronavirus Support Hub. – https://solentlep.org.uk/coronavirus-support-hub/

NHS
The latest Coronavirus advice from the NHS can be found here