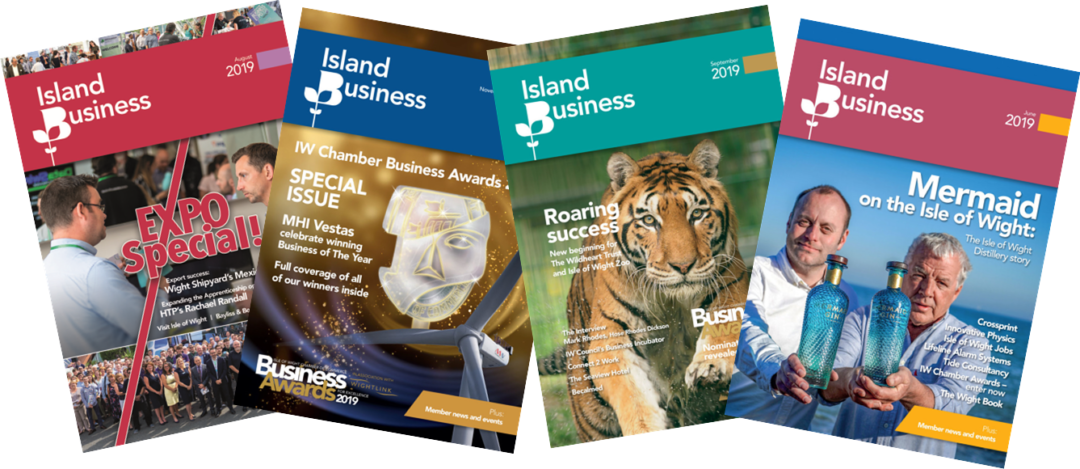 Island Business, published by the IW Chamber, is the Isle of Wight's only business-to-business magazine.
Every month Island Business magazine spotlights the businesses and business people that are making the news in the Island's economy. With exclusive interviews and editorial we focus on businesses large and small. Our news pages keep readers updated on the business stories that matter to them, including member stories, updates and offers.
Island Business magazine is a high quality, trusted publication with a strong reach. Each issue is mailed directly to every Chamber member and the magazine is racked prominently at high footfall businesses and locations including ferry terminals and on-board Red Funnel's Red Jets.
Island Business is an essential part of the marketing mix for any Island company, delivering a quality readership that reflects the Island's economy and includes high net worth individuals.
If you've got a message for businesses on the Isle of Wight then you need to be in Island Business!
• Find out more about advertising, marketing opportunities and how we can help you to raise your profile. Do you have a story to share with the business community, a milestone or a celebration? Send us your story for possible inclusion in Island Business Magazine or social media to Island Business magazine's editor Tom Stroud – tom.stroud@iwchamber.co.uk 
Sign up to receive Island Business Magazine
If you would like to start receiving a copy of Island Business Magazine in the post please complete the below form. (Please note that if you are a IW Chamber member you will automatically be added to the postal list)