IW CHAMBER BUSINESS AWARDS FOR EXCELLENCE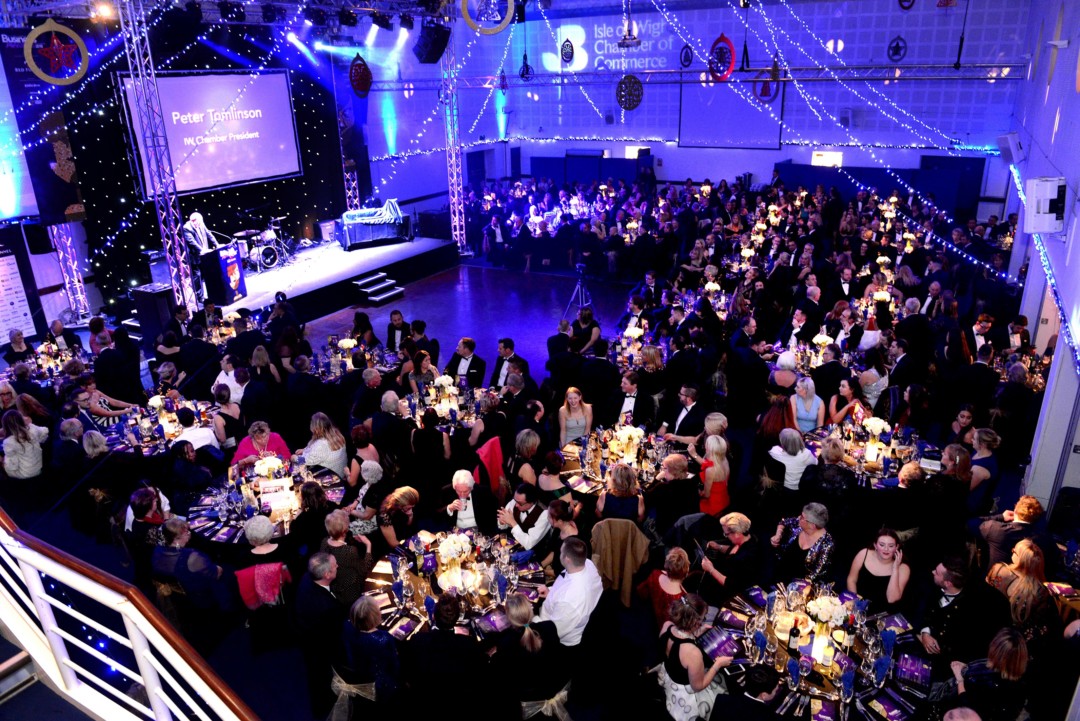 Get set for the biggest night of the year for the Island's business community! The 2019 Isle of Wight Chamber of Commerce Business Awards for Excellence will be presented on Friday 18th October 2019 in a glittering ceremony at Cowes Yacht Haven's Events Centre. 
It's an earlier date for the event which means that the timeline for submissions and nominations also moves forward. Entries will open in May and will close in July. The shortlist of nominees will be announced in September. 
This year sees the launch of two new categories. Excellence in Customer Service is now covered by two awards, for Micro Business and Small Business. There's also a new award for Micro Business of the Year.
As always the Chamber's Business Awards for Excellence are open to any Island based business, of any size or sector. 
"The response to the 2018 Awards night was phenomenal. We're already gearing up for an even bigger event. Last year we filled Cowes Yacht Haven and we're looking at another sold-out event for 2019. I would encourage all Island businesses to enter for these prestigious awards."
IW Chamber CEO Steven Holbrook
Can I enter for an award?
Yes. Your business must be based on the Island and must have completed your first full year of trading.
Is it free to enter?
Yes. Any business can enter in two categories for free. Subsequent entries will be charged at £100 plus VAT per entry for IW Chamber members or £150 plus VAT for non-members.
Do I have to be a Chamber member?
No. The awards are open to any Island based business.
When do the awards open?
Entry criteria and application forms will be available from Monday 20th May 2019.
What is the closing date?
Entries must be submitted by midday on 31st July 2019.
Will this closing date be extended?
No. This date and time are final and any entries received after this time will not be included.
What time period should my entry cover?
The awards time frame begins on January 1st 2018 and ends on the date of submission (ie 31st July at the latest). Entries should reflect activity within this time frame although year on year and historical comparisons can be included to show growth and scale.
My business is celebrating its 10th anniversary this year. Will that help me win an award?
Your award entry will be judged on your activity within the time frame of the awards not the lifetime of your business.
Can I email or post my entry?
No. All entries must be submitted using the online entry form.
When will the nominations be announced?
The shortlist will be announced in early September. The list will be unveiled at www.iwchamber.co.uk and the announcement will be advertised in advance.
When will the winners be announced?
Winners will be announced and presented with their award at the ceremony at Cowes Yacht Haven on Friday 18th October 2019.
Will you acknowledge receipt of my entry?
We will aim to acknowledge receipt of your submission within one working day.
Who are the judges and who will see my entry?
The judging panel is comprised of impartial business experts. Some are Island based, others on the mainland and some are internationally based. Your business will be judged wholly on your entry and the information that you provide. Your entry will be treated in confidence.
What about additional material?
The judges will make their decisions based on your written entry. You can supply additional photos or brief documents where you feel it to be appropriate. You can include website links within your entry and this can include links to video material (eg Youtube). All external material should be hosted for the duration of the judging process, as part of your own website or with a provider such as Dropbox. Please do not send externally hosted material with a time expiry date eg WeTransfer.
How is the shortlist put together?
The judging panel will assess all valid entries. Submissions that are incomplete or exceed the word limit or any other entry requirements will not be judged. Shortlists for each category and the number of nominations will reflect the quality of submissions within each individual category. The judge's decision is final.
Can I receive feedback on my entry?
Judges feedback will be available on request after the awards ceremony on the 18th of October.
Can I get help with my entry?
The strongest advice we can give you is to read the entry requirements for each category thoroughly and supply the evidence required. Remember that the judges may have no prior knowledge of your business or your activity. This is your opportunity to tell your story and show them, with evidence, what makes your business so exceptional.
The Chamber will be running two "So you want to win an IW Chamber Award" sessions with Dale Howarth on Monday 10th June at the IW Chamber Office. To book places please visit the events page.