"Best Expo ever" – IW Chamber's Business Expo with WightFibre is a sunny success at Ryde School
The biggest day for Island business networking is now bigger than ever
More than 60 exhibiting businesses and hundreds of visitors took part in IW Chamber's Business Expo yesterday (12 July), held at Ryde School. The business networking event has been hailed as a huge success, with a record number of exhibitors and attendees. Sponsored by WightFibre, the event is a landmark day in the business community calendar, providing informal high-quality networking, with free entry, open to all.
This year's event saw Expo relocate to the grounds of Ryde School, with more than 60 Island businesses taking stands in a specially erected marquee. The venue proved a hit with exhibitors and attendees alike, with excellent facilities and food provided.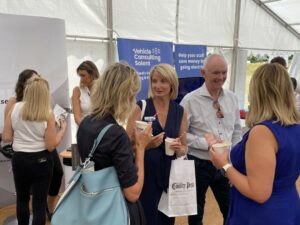 "We're thrilled with the response to Expo," says Steven Holbrook, IW Chamber's Chief Executive. "The sunny weather was the icing on the cake for an already buzzing event. Moving the event to Ryde School brought us into Ryde town, where there is plenty of nearby parking, creating an opportunity for higher footfall. We saw a steady stream of visitors across the day and we know that people stayed for longer this year. We're very happy with our numbers.
"This year we hosted more businesses than ever and I'd like to thank all of our exhibitors and sponsors for supporting our event and the Chamber. Expo is a very necessary event and we know that it brings the community together for one day. It's free to attend and open to all, and we're very grateful to everyone who supported us and helped to make it happen.
"I'd like to thank all of our exhibiting businesses for taking the opportunity to be part of our event and helping the Chamber to wave the flag for Island business. Huge thanks to our main sponsor WightFibre for their ongoing support for the Chamber; we couldn't have done it without them. Thanks too to our returning sponsors All Things Printed, Fortis Energy and IOW Espresso Co.
"It was great to see to many new faces and new businesses choosing to exhibit this year. The team at Ryde School have been fantastically supportive and helpful, providing the perfect setting. As well as meeting our exhibitors within the WightFibre marquee, we also saw lots of attendees enjoying the sunshine and sitting down on deckchairs to chat on the lawn. It was informal networking at its best.
"The feedback has already been very strong and we're already thinking about how we can grow Expo next year and make it even better still."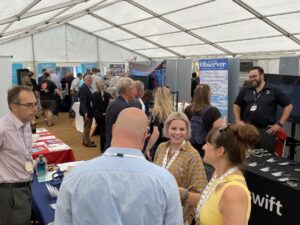 Attendees were able to chat to businesses from a wide range of Island businesses and organisations, from the local authority to corporate service providers, technology firms, media, transport, food and drink, hospitality and the charity sector.
WightFibre's CEO John Irvine spoke at the opening of Expo.
"WightFibre is proud once again to sponsor the largest business event on the Island," John said. "We want to give back to the Island and to support the Island community, including the Isle of Wight Chamber of Commerce, which is a not for profit organisation. Our sponsorship helps the Chamber to make Expo a bigger event and to reach more people. It's a great day for the business community."
Businesses exhibiting at Expo this year included:
WightFibre, Alex Tana Coaching, Alison Thorogood Training & Coaching, All Things Printed, Bembridge Powerboat Training, Biscoes Solicitors, Blue Touch Paper Consulting, Casper Douglas Properties (Lake) Ltd, Cherry Godfrey, Citizens Advice IW, Dataswift, Dementia UK Admiral Nurses (IW) Appeal, Eldridges Legal Services Ltd, Element Housing, Fortis Energy, Good Skills Training, Hampshire & Isle of Wight Air Ambulance, Hillbans Pest Control Ltd, holidaycottages.co.uk, Hose Rhodes Dickson, Hovertravel, HR Dept, HTP Apprenticeship College, Innovation Wight – Building 41, IOW Espresso Co., Isle Access, Isle of Wight Construction Training Group, Isle of Wight County Press, Isle of Wight Lottery, Isle of Wight Observer, Isle of Wight Radio, Isle of Wight Tomatoes, Isle of Wight Youth Trust, IW College, J.L.T Wines Limited, JR Zone, Lifeline Alarm Systems, MedTec Design Services, Meridian 3, Mission Zero Business Hub, Mountbatten, PC Consultants, Pertemps, Powered Now, Red Squirrel Property Shop, Robin Hill, Ryde School with Upper Chine, Ryde Town Council, Sandham Office Services, SEETEC, Solent LEP, Southern Vectis, Statera Initiative Ltd, Top Mops, Vehicle Consulting Solent, Vision Accounting, Wessex Cancer Trust, Wight Community Energy, Wight Computers, Wightlink, Wonderfell Theatre Company , Working Towards Wellbeing, WRS Systems