IW CHAMBER BUSINESS AWARDS 2022 with WIGHTFIBRE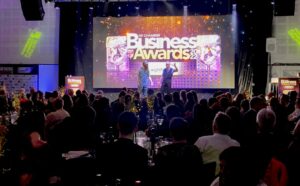 The Island's biggest and most prestigious awards have been presented – for the first time since 2019.
Top Mops has been named the Business of the Year, receiving a standing ovation from the capacity crowd at Cowes Yacht Haven tonight (Friday 6th May 2022).
The Outstanding Contribution award went to Alec Dabell, managing director of Vectis Ventures.
With 52 nominations from 39 Island businesses, it was a huge night for the Island's business community.
"Our winners this year tell an incredible story," says the IW Chamber Chief Executive Steven Holbrook. "Despite huge challenges for us all in 2021, the Island's businesses adapted and in many cases thrived. It's a genuine thrill to be able to present these awards tonight."
The ceremony was hosted by comic magicians Griffin & Jones and the evening was sponsored by WightFibre.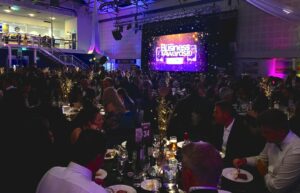 Start Up Business of the Year
Sponsored by PC Consultants 
Nominated:
Island Holiday Company
J&B Wholesale
We Go Local Solutions
William Eikos
WINNER:
J&B Wholesale
Entrepreneurship Award
Sponsored by Liz Earle
Nominated:
Isle of Wight Cocktail Co
Medina Publishing
Nosy
Wheeler & Lai 
WINNER:
Isle of Wight Cocktail Co
Customer Service Award
Sponsored by Hovertravel
Nominated:
BeCalmed
The Royal Hotel
Top Mops
Highly Commended:
BeCalmed
WINNER:
Top Mops
Business in the Community Award
Sponsored by WightFibre
Nominated:
Island Roads
Storeroom 2010
Vectis Radio 
Highly Commended:
Storeroom 2010
Vectis Radio 
WINNER:
Island Roads
Workplace Health and Well-being Award
Sponsored by BCM
Nominated:
Gurit UK
UKSA
Yokogawa Marex
Highly Commended:
Yokogawa Marex
WINNER:
Gurit UK
Training and Development Award
Sponsored by Hillbans Pest Control
Nominated:
Becalmed
Lifeline
Nosy
Red Squirrel Property Shop 
Highly Commended:
Nosy
WINNER:
Lifeline
Environment and Sustainability Award
Sponsored by NFU Mutual

Nominated:
Eat Street
Isle of Wight Deer Farm
Liz Earle
Vikoma
Wightlink
WINNER:
Liz Earle
Technology and Innovation Award
Sponsored by Lifeline Alarms
Nominated:
Datum Electronics
William Eikos
Innovative Physics
WINNER:
Datum Electronics
Hospitality and Tourism Business of the Year
Sponsored by Visit Isle of Wight
Nominated:
Adgestone Vineyard
Seaview Hotel
Tapnell Farm 
WINNER:
Adgestone Vineyard
Manufacturing and Export Business of the Year
Sponsored by GKN

Nominated:
Innovative Physics
Vikoma
WINNER:
Vikoma
Made on the Isle of Wight Award
Sponsored by Red Funnel
Nominated:
Blackgang Chine
Isle of Wight Cocktail Co.
Something Blue
Tomato Stall
Highly Commended:
Something Blue
WINNER:
Blackgang Chine
Launched in 2021 Award
Sponsored by IFPL
Nominated:
Meridian3
Skates Roller Rink
William Eikos
WINNER:
Skates Roller Rink
Growth Business of the Year
Sponsored by WRS Systems
Nominated:
Briddlesford Farm
Garlic Farm
Top Mops
Wheeler & Lai 
WINNER:
Garlic Farm

Micro Business of the Year
Sponsored by Gurit

Nominated:
Isle of Wight Jobs
J&B Wholesale
William Eikos
WINNER:
William Eikos
Small Business of the Year
Sponsored by Wightlink 
Nominated:
Datum Electronics
Diametric
Medina Publishing
Richardson's Yacht Services 
WINNER:
Diametric
IW Chamber Member of the Year
All Things Printed
IW Chamber President's Cup for Outstanding Contribution
Alec Dabell, Vectis Ventures
IW Chamber Business of the Year
Top Mops